Under Jill's leadership since 2012, the City of Mount Vernon has experienced a renaissance in city services, cooperation and civic pride. She manages the City like a CEO in business.
City Services:  Over the past 8 years, innovation has become the centerpiece of Mayor Jill Boudreau's advocacy for the City of Mount Vernon.  The City was featured on radio station KNKX on January 31, 2019:  https://www.knkx.org/post/knkx-connects-mount-vernon-mayor-introduces-her-city-walk-through-downtown
Waterfront Project: Mayor Jill Boudreau secured $7.4 Million in State Capital Funding to complete Phases 2 & Phase 3 of the Waterfront and Flood Protection Project.  Mayor Jill  personally worked with FEMA to secure flood map revisions issued in June 2019,  completing  this  project!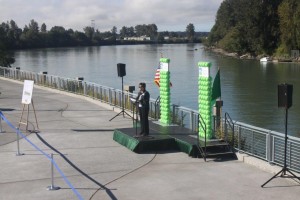 College Way Widening: Mayor Jill Boudreau received $2.7 million in grant funding for the City of Mount Vernon for the College Way widening under Interstate 5. The project has begun construction to be completed in early 2020.
City Operations: Under Mayor Jill Boudreau, the way the city operates administratively and technologically, on a daily basis, is streamlined and updated. Innovations include:
Online services expansion including permits, utility bill pay, internal facility management system, expanded GIS systems
Complete upgrades to Hillcrest Lodge garden and BBQ, began Little Mountain Park Bike Skills center
Launched new mobile friendly city website
Instituted city newsletters to keep residents updated and informed
Created trusting relationships with all five city labor unions, at decreased employee healthcare costs by 10%.
Publishes yearly operations goals
Increased Pu
blic Safety: The City collaborated with Skagit County and other Cities to realize the new Skagit County Jail in 2017.
Homelessness:   Jill led her staff in a response to this issue – responding with compassion and enforcement and doing more than any City of our size in the State of Washington.  Read details by visiting the City website: http://mountvernonwa.gov/CivicAlerts.aspx?AID=336
Mount Vernon Fire Department: Jill worked tirelessly to realize efficiencies in EMS delivery, and Skagit County cities began EMS service in a fire department based model on January 1, 2019.
Focused Drug Enforcement:  Jill listened to her front line staff and supported officers in an innovative neighborhood drug enforcement strategy resulting in quick action and effective displacement of crime.
Police embedded social worker:  Under Jill's leadership, the City of Mount Vernon Police Department currently deploys 2 social workers  to conduct direct street outreach to the homeless population.
Law Enforcement park ranger:  The City of Mount Vernon is one of the only cities in the State of Washington to employ a law enforcement focused park ranger.
Economic Opportunity :  Mayor Boudreau has built a solid foundation for sustained growth and focus on economic sectors that play to Mount Vernon's strengths:

Opportunity Zones (OZ):  Mayor Jill personally wrote the applications for Mount Vernon to be designated and OZ gaining 3 census tracts for Mount Vernon investors.  https://youtu.be/JxtCVx5WLGI
Innovation Partnership Zone: Jill fulfilled a campaign promise by successfully partnering with the Port of Skagit, WSU Mount Vernon research center, Skagit Valley College and others to achieve the State IPZ designation through the Department of Commerce. Three new brewing companies have located in the greater Mount Vernon area since 2015.   Listen to a radio interview from Pike Brewing Vice President Drew Gillespie. – http://kuow.org/post/can-washington-be-france-terroir-beer
Cooperation:  Mayor Boudreau has built a solid reputation of being prepared and courageous, firm yet diplomatic when it comes to collaborative efforts with valley and statewide partners.
Builds Relationships: She has built respected working relationships with partner agencies such as Skagit County Public Health, Friendship House, Skagit 911, WSDOT as well as state and federal representatives.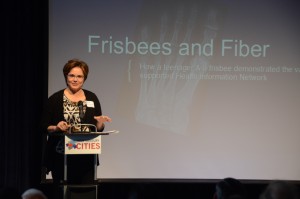 Mount Vernon's Voice at the State Level: Called to serve the people of Washington State by Governor Jay Inslee on the SR 530 Landslide Commission, Jill added her perspective on crisis management to the Commission report.
Advisory Boards: An active advisory board member of Next Century Cities, Mayor Boudreau traveled to New York, California and Washington D.C. to advocate on behalf of cities across the nation for broadband (fiber optic) infrastructure.
Civic Pride
Culture of Accountability, Kindness & Respect: Perhaps Jill's greatest strength is her ability to act with kindness, even in the most challenging circumstances, and to inspire her staff to do the same.  She holds herself to a high standard and other elected officials as well.
Coffee Hours: Mayor Jill instituted Mayor's Coffee Hours to invite public discussion, create a sense of engagement, and offer residents an easy, friendly venue to express their concerns or praise for city activity.  Mayor Jill has met over coffee over 300 times with the public in this informal format.