Rachel Dahlstedt Matthews is the opponents campaign manager.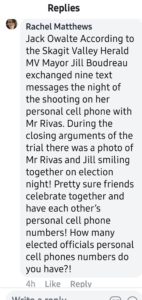 This post is from Breaking Skagit on September 9, 2019. One of several that Ms. Dahlstedt Matthews has posted.
As Mayor, I have been committed to transparency and open dialogue with the public since day one, hosting over 300 Mayors Coffees.   
RESPONSE:
State of Washington  vs. Ernesto Rivas  case: 16-1-01284-1
STATEMENT FROM MAYOR JILL BOUDREAU
I was a witness for the prosecution in the recent trial of Ernesto Rivas in which the defendant was found guilty of all 6 charges including 1st degree assault of three Mount Vernon Police Officers.   
While it is unusual for a Mayor to be a witness for the prosecution in a trial, it is not unusual for me to speak to, meet with, take pictures with any member of the public.
It is unusual for a Mayor to have experience in dealing with gang members and issues within our community.  Most would characterize that as a strength.
I did not consider Ernesto Rivas a friend.
The following are some Frequently Asked Questions (FAQ) that may help the residents who raise an eyebrow at this initial information.
Was Jill in contact with Ernesto Rivas the night that Officer McClaughry was shot?

Yes, Ernesto Rivas texted and called Jill that night
Jill promptly relayed all of the text messages to the negotiators during the incident
During the incident, police negotiators asked Jill to be available in case her presence would bring Ernesto Rivas to surrender

Why would Jill even talk to someone like Ernesto Rivas?

Ernesto Rivas asked to meet with Jill to discuss gang issues in Mount Vernon
Jill worked at the Mount Vernon Police Department as a Community Service Officer in Crime Prevention and is very knowledgeable about gang issues
Jill worked with gang involved youth while serving as a Community Service Officer
Before Jill made the decision to communicate with Ernesto Rivas she discussed the proposed interaction with Mount Vernon Police detectives
Jill told Ernesto Rivas that anything he told her would be passed on to police
Ernesto Rivas gave information about gang crime to Jill, which was then passed on to police. This was highlighted during the trial when the prosecutor referred to Rivas as a 'snitch' when describing his interactions with Jill and various MVPD officers

How did Ernesto Rivas get Jill's phone number?

A supporter of Jill's 2015 campaign shared the number. Jill uses her personal phone for personal use, as well as campaign use.

What was the picture of Jill and Ernesto Rivas that was introduced at the trial?

The "selfie" picture was taken by Ernesto Rivas at a campaign celebration he attended with his aunt Jovita Angelica Guillen Hernandez, a supporter of Jill. Approximately 60 people came to the event and most took pictures with Jill in celebration of her re-election.  It is common for Jill to take pictures with the community.
Some  will  judge  harshly  for  this  picture

Most people will judge that I am a leader willing to be open to anyone – but also take the stand under oath to bring those that commit crime to justice.

What were the text messages?

In addition to screenshots provided to detectives the night of the incident, detectives forensically downloaded text messages for the prosecution's case as presented in Court.
Ernesto Rivas called and texted Jill Boudreau during the police incident of December 15, 2016. The following screenshots show 5 text conversations between Sept 2 – December 15, 2016, and is part of the public court record as well as Jill's full testimony at trial. All communication was initiated by Ernesto Rivas – Jill's texts are in the green box.